this discord has ghosts in it
A downloadable haunted house
WINNER: MOST INNOVATIVE at the 2021 Indie Groundbreaker awards
This Discord Has Ghosts in It is a game of entering and exploring a haunted house filled with ghosts. That haunted house is a Discord.
In this game, players are either investigators or ghosts.
investigators can only speak

ghosts can only type
The Discord is split up into rooms of a haunted house. Ghosts haunt rooms and type their horror into them. Investigators explore each room all while narrating the horror to all players. Ghosts will reveal parts of themselves by creating new rooms, inspiring horror, and making the house a labyrinth.
This game is for two to twelve players, played over the course of one to three hours.
Credits

Design by Adam Vass and Will Jobst
Writing and development by Will Jobst

Additional writing by Adam Vass
the difference between ghosts and poltergeists by Seb Pines (@smolghost)
Cover and layout by Adam Vass
playtesting by Adam Bell, Paul J Hodgeson, AE Jonesy, Simon Moody, and Viditya Voleti


Early Access
This game is in early access, and will be updated, expanded, and released in winter 2021. With your support, we will be able to dedicate more time and money toward developing this game.

Physical Edition
The updated and revised edition of This Discord Has Ghosts in It will be coming this winter! This is a free update for everyone who downloaded this game. Preorder the physical version here.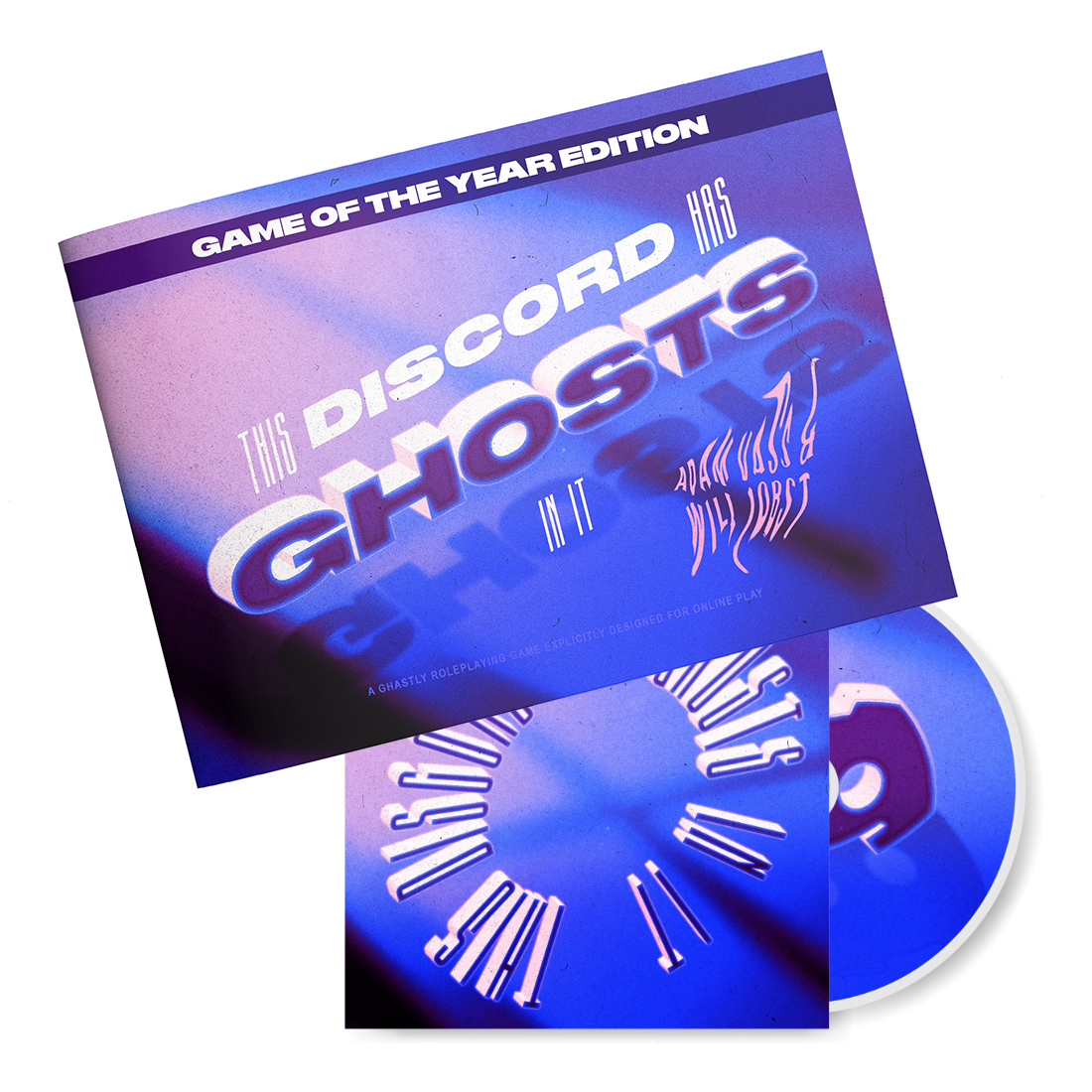 What's going to be included in the full release of the game?
Revised and expanded rules: thanks to the feedback from players, adding requested features and text changes to make this game even quicker to pick-up-and-play
New game modes: from found-footage horror to Scooby-Doo goofiness, we're including some alternate game modes and setups for a wider variety of experiences
Readymade haunted houses: new layouts and rules options for haunted houses to emulate different sorts of horror experiences
Essays: new content from horror writers on the nature of the genre to widen and deepen your haunted house experience
Music: atmospheric soundtracks for your hauntings
DIY guide: tips and options for making your own hack of this game
and more!
Everyone that downloaded this game, including those who grabbed a free copy, will get access to the complete version of the game.
Purchase
In order to download this haunted house you must purchase it at or above the minimum price of $7 USD. You will get access to the following files:
this_discord_has_ghosts_in_it_0.1.pdf
22 MB
this_discord_has_ghosts_in_it_0.1_tifs.zip
88 MB
this_discord_has_ghosts_in_it_0.1_plaintext.rtf
15 kB
community copies
Support this haunted house at or above a special price point to receive something exclusive.
community copies
each copy of this discord has ghosts in it you buy helps someone else grab a free copy. if you're not able to buy this game, please grab a free copy here and enjoy.